To search for homes near schools in the Conroe School District Click Here

Conroe School District was created in 1892 by the Commissioners Court of Montgomery County, Texas by consolidating 12 Common School Districts surrounding Conroe.
At the time of the consolidation, the school district covered 25 square miles.A lot has changed since 1892 and so has the area covered by the Conroe school district. Today, the area covered by the school district is 348 square miles. The Conroe school district is the 21st largest school district and one of the fastest growing districts in the state of Texas.
During the 2008-2009  school year 47,769 students were enrolled in tthe Conroe School District at 49 schools. 
According to the AEIS Report, the ethnicity breakdown for the 2008 -2009 school year was White – 61.7%, Hispanic – 27.5%, African American – 6.8%, and Other 3.9%.
The passage of a recent school bond has the Conroe School District beginning construction on additional schools to support the projected 2,000 annual student population growth. The school district is projected to be educating 57,300 students by the year 2012.
The Texas Education Agency (TEA) rates schools and districts primarily based upon the test results of the Texas Assessment of Knowledge and Skills (TAKS). A standardized test that is administered to students in grades 3 – 11.
The ratings given by the TEA to the schools and districts are (E) – Exemplary, (R) – Recognized, (A) – Academically Acceptable, and (U) – Unacceptable. To learn more about the ratings …. view Rating Texas Schools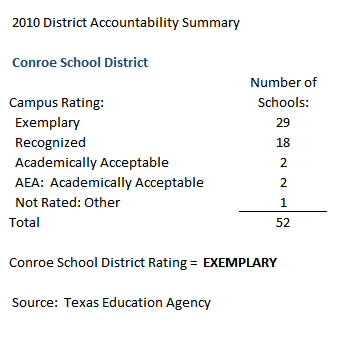 Wanting to know the rating for a particular school in the Conroe School District?  View all the 2010 Conroe School Ratings.  
Ratings are one of the ways parents evaluate Spring Texas schools in determining the quality of education provided to their children.