(To search for homes near schools in the Cy-Fair School District Click Here 
There are 186 square miles of land within the boundaries of the Cypress-Fairbanks ISD. This makes it the second largest school system in land area out of the 22 districts in Harris County and the third largest in the State of Texas. During the 1939-1940 school year, the Cypress schools and the Fairbanks schools joined together to form what is now Cypress-Fairbanks Independent School District.
It is bordered by seven other school districts Houston, Spring Branch, Katy, Klein, Aldine, Tomball and Wallerit. The Cy-Fair school district is also the second largest district in terms of student enrollment. The Cy-Fair school district has experienced phenomenal growth over the last several years and the availability of land coupled with population growth it looks as if the trend will continue.
During the 2008-2009  school year 100,505 students were enrolled in the Cypress-Fairbanks School District 
According to the AEIS Report, the ethnicity breakdown for the 2008 -2009 school year was White – 37.1%, Hispanic – 38.1%, African American – 15.7%, and Other 9.1%.  The number of students per teacher ratio was 15.7.
CFISD is home to more than 780 subdivisions and apartment complexes within its borders. There are a number of industries within district borders, including international corporations and a number of small factories and plants.
The Texas Education Agency (TEA) rates schools and districts primarily based upon the test results of the Texas Assessment of Knowledge and Skills (TAKS). A standardized test that is administered to students in grades 3 – 11.
The ratings given by the TEA to the schools and districts are (E) – Exemplary, (R) – Recognized, (A) – Academically Acceptable, and (U) – Unacceptable. To learn more about the ratings …. view Rating Texas Schools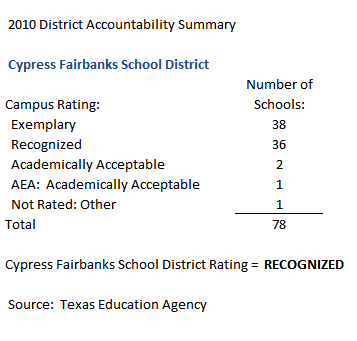 Wanting to know the rating for a particular school in the Cypress Fairbanks School District?  View all the 2010 Cypress Fairbanks School Ratings.  
The ratings are one of the ways parents evaluate Texas schools in determining the quality of education provided to their children