The Tomball Indpenendent School District encompasses 83 square miles in northwest Harris County and southwest Montgomery County and is located approximately 30 miles from downtown Houston.
The ethnic distribution based on the 2008-2009 AEIS Report was 67.2 percent White, 21.3 percent Hispanic, 6.7 percent African American, 4.4 percent Asian, and 0.4 percent Native American. The number of students per teacher ratio was 15.6.
Canyon Pointe Elementary is enjoying its first year of operation for the 2008 – 2009 school year. Canyon Pointe Elementary was designed to accommodate 750 students. 
The Texas Education Agency (TEA) rates schools and districts primarily based upon the test results of the Texas Assessment of Knowledge and Skills (TAKS). A standardized test that is administered to students in grades 3 – 11.
The ratings given by the TEA to the schools and districts are (E) – Exemplary, (R) – Recognized, (A) – Academically Acceptable, and (U) – Unacceptable. To learn more about the ratings …. view Rating Texas Schools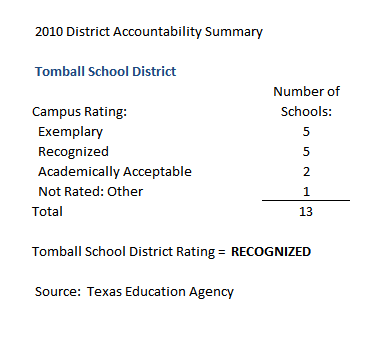 Wanting to know the rating for a particular school in the Tomball School District?  View all the 2010 Tomball School Ratings.   
The ratings are one of the ways parents evaluate Texas schools in determining the quality of education provided to their children.